La máquina de producir ambientes
Hoy estamos de enhorabuena. Hace unas horas los editores de la prestigiosa revista, Journal of Cultural Economy, han dado el visto bueno definitivo a la publicación del texto que hemos escrito con Zoohaus sobre la historia y aventuras de la Offfficina (aka, el Dinosaurio). El texto aparecerá (¡en el 2015!) en un número especial que la revista está preparando sobre "culturas del prototipado" (en inglés, Prototyping cultures: art, science and politics in beta).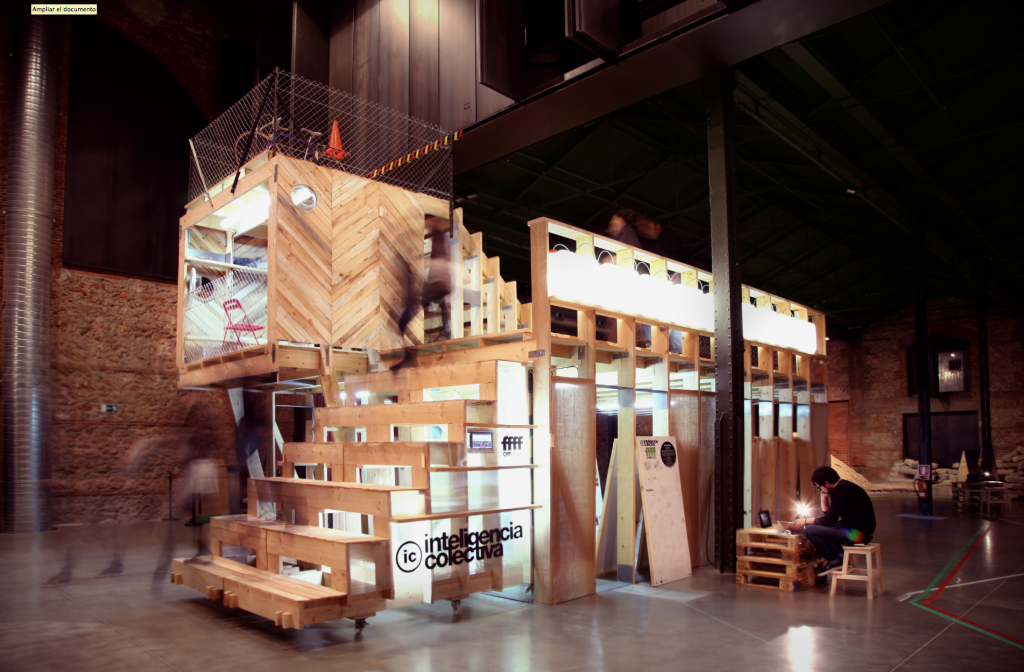 En el texto contamos la historia de la Offfficina, desde sus orígenes como experimento pedagógico sobre técnicas auto-constructivas (experimento que viaja por la península y América Latina), hasta su llegada a Matadero y re-invención allí como gigantesco mobiliario de conocimiento abierto. Uno de los desafíos que nos planteamos en el texto es, precisamente, pensar qué pueda ser eso del 'conocimiento abierto' cuando nos lo encontramos en 3D: ¿cómo mantener abierta una obra cuyos componentes son materiales, no intangibles? En otras palabras, ¿qué pueda ser un prototipo de arquitectura open-source?
Es en estos términos que desarrollamos la propuesta de pensar el Dinosaurio/Offfficina como una extraordinaria máquina de producir ambientes: una infraestructura-evento que sostiene – no sin dificultad, claro – las atmósferas del conocimiento libre.
Os dejamos con el texto, que podéis también descargar: